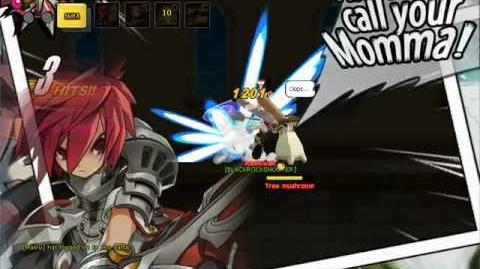 | | |
| --- | --- |
| | [Special Active - Destruction] Elsword smashes his flaming sword into the ground to erupt a fiery geyser onto his enemies. |
Requirements
| Class | Master | Level Required | SP Cost Per Level |
| --- | --- | --- | --- |
| Knight | Lv. 20 | 0 | 2 |
Skill Information
Skill Level
Level Required
Damage (Magical)
Max Hits
MP Usage
Cooldown
Normal
Awaken
1
0
409%
6
8
150 MP
8 Seconds
2
418%
3
427%
4
1
437%
5
3
446%
6
5
455%
7
7
464%
8
9
473%
9
11
483%
10
13
492%
11
15
501%
12
17
510%
13
19
519%
14
21
529%
15
23
538%
16
25
547%
17
27
556%
18
29
565%
19
31
575%
20 (M)
33
584%
21
-*
593%
22
602%
23
611%
24
621%
25
630%
26
639%
27
648%
28
657%
29
667%
30
676%
*Please note that you can only achieve these levels through equipments, accessories, and titles.

Name: Lava Gusher(NA) / Lava(KR)
Description: Increases the height and width of Flame Geyser's fire by 20%.
Target will also burn for 10 seconds.
Without the note Flame Geyser will only do about 3 hits on non-super-armoured targets. A noted Flame Geyser will do about 4 hits on non-super armoured targets and 6 during awakening.
Tips and Details
This skill launches enemies fairly high, leaving them open for a combo.
Great when used on Stoic enemies.
It is a good skill to use when Vitality Aura is required, as it has quick execution and fills a reasonable portion of Vitality Aura.
Elsword

Skills
Special Active

Flame Geyser
Fatal Fury
20x20px
Mega Slash
20x20px
Assault Slash
20x20px
Unlimited Blade
20x20px
Triple Geyser
Active

Roll

Extreme Love Above The Sky
20x20px
Sword Wave
20x20px
Counterattack
20x20px
Block
Passive
20x20px
Counter Chance
Ad blocker interference detected!
Wikia is a free-to-use site that makes money from advertising. We have a modified experience for viewers using ad blockers

Wikia is not accessible if you've made further modifications. Remove the custom ad blocker rule(s) and the page will load as expected.