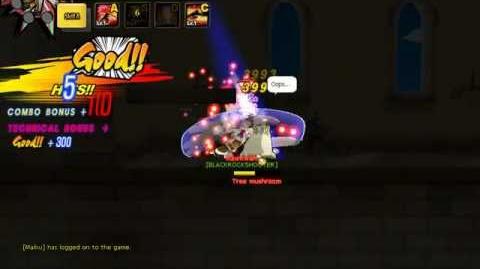 | | |
| --- | --- |
| | [Special Active - Vitality] Elsword strikes his enemy 5 times with a charged sword attack and then ends it with a swing, knocking enemies off their feet. |
Requirements
| Class | Master | Level Required | SP Cost Per Level | Alternative |
| --- | --- | --- | --- | --- |
| Knight | Lv. 20 | 5 | 2 | Mega Slash |
Skill Information
Skill Level
Level Required
Damage (Physical)
Max Hits
MP Usage
Cooldown
1
5
396%
5
150 MP
8 Seconds
2
405%
3
414%
4
6
423%
5
8
432%
6
10
441%
7
12
449%
8
14
458%
9
16
467%
10
18
476%
11
20
485%
12
22
494%
13
24
503%
14
26
512%
15
28
521%
16
30
530%
17
32
539%
18
34
547%
19
36
556%
20 (M)
38
565%
21
-*
574%
*Please note that you can only achieve these levels through equipments, accessories, and titles.
Name: A Man's Retreat(NA) / I know when men retreat(KR)
Description: If Fatal Fury's first hit misses, Elsword recovers 50% (87 in KR) MP and the skill is interrupted. If it connects, then the other 4 hits will inflict 20% more damage.
The opponent cannot MP break after the second hit.
Tips and Details
Fatal Fury is a great skill to end a combo with. It may also be used to stun your target long enough for your teammates.
Against bosses (not mini-bosses), the skill note's 20% damage boost almost always only works for the last 3 hits. This bug also rarely occurs in PvP, sometimes for even more hits. However, it's not yet certain what exactly can trigger it.
Updates
Elsword

Skills
Special Active

Flame Geyser
Fatal Fury
20x20px
Mega Slash
20x20px
Assault Slash
20x20px
Unlimited Blade
20x20px
Triple Geyser
Active

Roll

Extreme Love Above The Sky
20x20px
Sword Wave
20x20px
Counterattack
20x20px
Block
Passive
20x20px
Counter Chance
Ad blocker interference detected!
Wikia is a free-to-use site that makes money from advertising. We have a modified experience for viewers using ad blockers

Wikia is not accessible if you've made further modifications. Remove the custom ad blocker rule(s) and the page will load as expected.